Advertising

Chrome read mode; To turn on reading mode in Google Chrome, you can follow the illustrated description below. This feature is disabled by default and someone must enable Reading Mode in Chrome 75 to enable it. When enabled, this mode removes clutter from the web page so you can focus on the article at hand. Chrome's Reading Mode is very similar to Firefox.
However, Microsoft Edge does not yet have many features compared to reader mode. However, this feature has not yet been formalized, so it will still be improved. If you want to select a reader mode that comes with additional functionality for Chrome, you can check out this article:
An error report published on Chromium.org mentioned Reading Mode, which will run on different platforms such as macOS, Linux and Windows. The Read Mode feature is currently only available on the Android version of Chrome, while Google wants to make it available on all platforms.
Although not much is known about the details of the feature, the error report says that Reading Mode will be compatible with other operating systems. It wouldn't be wrong to say that Google is a little late in this feature, which is currently available in Mozilla Firefox, Microsoft Edge and Vivaldi.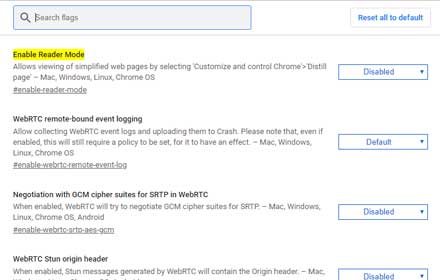 Enter chrome://flags/#enable-reader-mode in the address bar to access the flags screen.
Set Reader Enable Reader Mode "to Enabled on the screen and restart Chrome.
After activating the mode, log on to the site where you want to turn on reading mode and click "Parse Page".
Chrome read mode
Advertising